egy.com suggests following articles
Several of my articles on Garden City were plagiarized word for word by novelist MEKKAWI SAID (winner of the Egyptian State price for literature!!!!) and re-published under his own name in a three-part series in El-Masry El-Youm daily in September 2015.
Cheers to our "talented" literature prize awardee. Your pain his gain !!!
EGY.COM - LANDMARKS - CAIRO - HELIOPOLIS
9. ADOPT A MONUMENT
SAKAKINI PALACE: HOW ABOUT THE PALACE THAT TURNS A HUNDRED YEARS OLD THIS YEAR?
by Samir Raafat
Egyptian Mail, 5 April 1997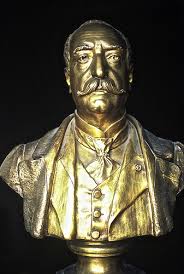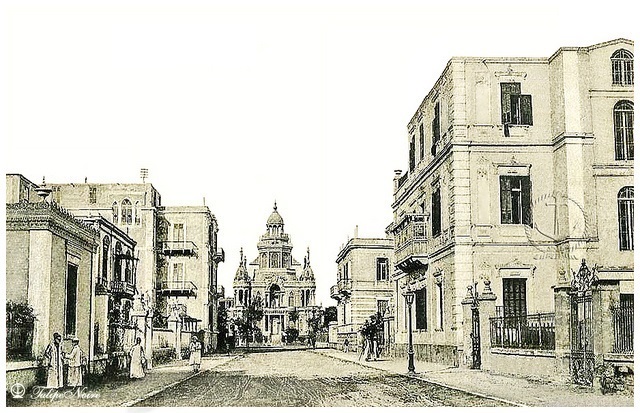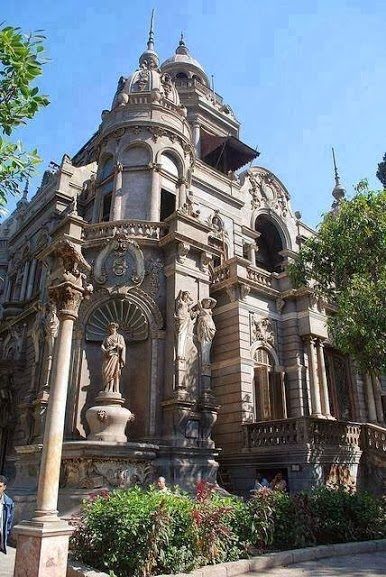 IN al-Lata'ef al-Masreya's 18 June 1923, issue, Tewfic Moufarej reproached his recently departed coreligionist Count Gabriel Habib Sakakini Pasha (1841-1923), for having been a cheeseparer. "Why hadn't the eccentric pasha been more generous towards his community. All he left behind was a church. Where then, are the Sakakini hospitals, Sakakini orphanages and Sakakini schools?" laments the editor of the popular Egyptian magazine. But as though contradicting himself, Moufarej describes further on how Sakakini had become a household name sported on tramways running through Fagala and Daher on their way to the residential district bearing the pasha's name. And how the same tramways passed through Sakakini Square clanking away beneath the inimitable Sakakini Palace.
According to Moufarej, this 'rags to riches' saga started when Gabriel Habib Sakakini arrived from Damascus aged 16 to take on a job with the nascent Suez Canal Company in Port Said. For the next four years the Syrian worked for the paltry sum of 3-4 French francs per month, which leads us to believe that Sakakini's eventual move to Cairo was more for economic rather than health reasons. Otherwise, why did he sojourn in the city's North-Western outskirts, an abandoned area known for its mosquito-infested marshlands?
It was precisely at the center of this wretched area that Sakakini would later erect his rococo-renaissance palace. Having become a rich contractor, he metamorphosed the entire area from swampy mire into an upmarket residential district. Somewhere along the way he developed his distinctive attention-getting style that would stay with him well into the after-life.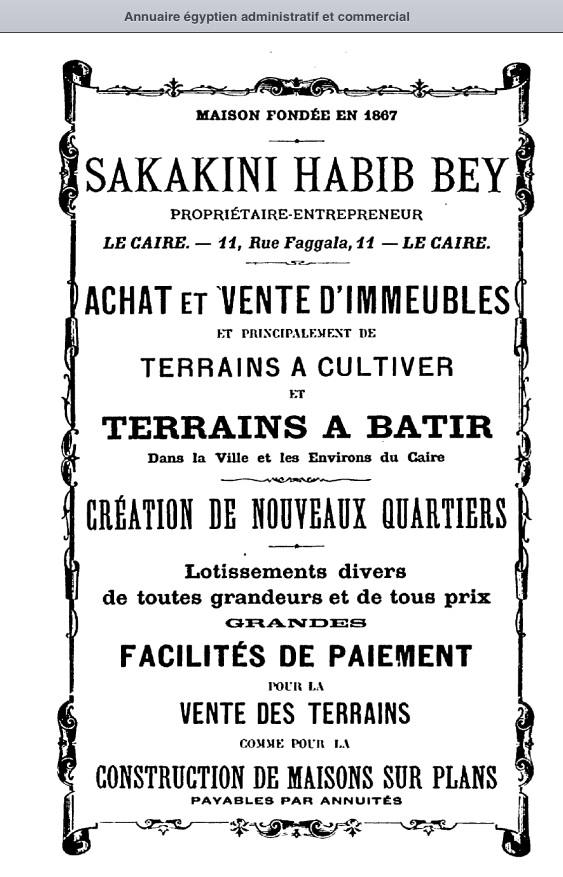 advertisement in the 1891 Commercial Directory of Egypt
When it came to selecting a site for his home Sakakini Pasha chose it at the convergence of eight important roadways. Henceforth, all roads led to Sakakini Palace. Seen from above, the pasha's Disney-ish abode looked like the sun radiating outwards in all directions.
Undoubtedly, the lord of the manor liked to be at the center of things. And since it was Sakakini Pasha who had donated the large chunk of property contiguous to the Hanging Church (Kenissa al-Moalaka) in Old Cairo for the erection in 1896 of the new Greek Roman Catholic cemetery, it wasn't difficult for him to set aside the center plot for his family mausoleum.
Upon his death, Sakakini was buried at the median of the cemetery, inside the crypt of his own Byzantium-styled Mar Elias Church. To this day, prayers are held there each week officiated by the leading clergy of the Greek Malachite Catholics. First among equals, Sakakini Pasha, lies in state surrounded by the leading members of his community including the Zananiris, Nahas, Maatouks, Sedanouis, Eids, Khers, Pharaons, Aswads, Ganages, etc., all buried in no less handsome mausoleums. Even in 1923, the overall setting must have awed Sakakini's critics starting with Moufarej.
But what was it that occurred between the destitute young man's arrival from Port Said and his meteoric rise to fame and fortune earning him the lofty titles of papal "count" and Ottoman "pasha"?
Legend has it that Habib Sakakini attracted Khedive Ismail's attention when he exported by Camel Express sacks full of famished cats to the rat-infested Suez Canal Zone. Within days, the rodent epidemic was resolved. True or false this story is oft repeated with relish by Henri Sakakini's descendant Robert George Dayub.
Quick to recognize inventiveness and initiative, the khedive made good use of the shrewd Syrian, giving him the daunting task of completing the Khedivial Opera House.
Working under the Italian architect Pietro Avoscani, Sakakini instated a 3x8 shift system for the next 90 days. It worked and the opera house was completed in time for the arrival of visiting European monarchs, in Egypt for the lavish Suez Canal opening celebrations on November 17, 1869. The munificent khedive's gratification was boundless. Henceforth, building and public works contracts did not fail to come Sakakini's way.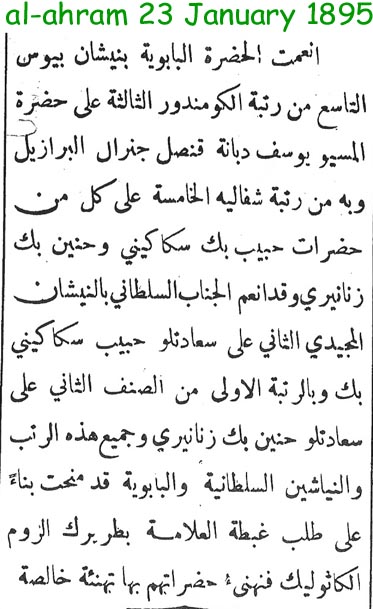 Habib Sakakini receives Papal honors
At 39, Habib Sakakini was assured the Ottoman title of 'bey', concurred in Constantinople by Ismail's suzerain, Padishah Sultan Abdelhamid. Two decades later, on 12 March 1901, Rome's Leon XIII conferred Sakakini with the papal title of 'count' in recognition of his services to his community. Le comte de Sakakini had donated the former palace of Saint Simonian architect Linant de Bellefonds to the Greek Catholic community for the construction of a cathedral.
But unlike the staid cathedral (located behind the Jesuit School in Fagala), Sakakini's circle-shaped palace is another story. With its many turrets, its conical and onion shaped domes and its medieval gargoyles and steeples, it looks more like a child's dream castle than a pasha's homestead. All it lacks to complete the fantasy are a moat and a drawbridge. The palace's 50 rooms and halls have more than 400 windows and doors, and the conspicuous decor includes over 300 busts and statues, many of them quite risqué. All in all, this is one of the best examples of a khedivial architectural folly.
According to the inscription above the Western entrance, the palace was built in 1897, which means this is its centennial year. One wanders, therefore, why such a rare piece of architectural kitsch is in such an advanced state of neglect? In Miami, Florida, or any other place, Sakakini palace would have become a shrine. Here, it is a dumping ground.
Ever since it became state property in 1961, the palace fell into chronic disrepair, not unlike that which befell the surrounding neighborhood. But it seems like only yesterday, however, when several ministers surrounded by fawning aides including a panel of conservation 'experts' paused next to it for some eye-catching photo-ops.
The 'yesterday' was April 1991. The deteriorated palace had just featured in a popular TV program Ahawi Wa Hakawi (Coffeeshop Tales), catching President Hosni Mubarak's attention. Overnight, there was the predictable surge of interest by the concerned cabinet members. As if by magic, a seven digit sum was whipped out of the state treasury and allocated for its restoration.
We are now in 1997. Where, pray tell, is the evidence of these restoration works? Or did the related funds evaporate along with the feigned enthusiasm! When was the last time the concerned minister dropped by for another publicized photo-op? So much for the sham.
Whether Count Habib Sakakini was a miser or not, the man was a problem-solver who could be counted upon by his community and sovereign. Despite what Moufarej had to say about him, had Sakakini Pasha been alive today, he would have found the right type of cats to rid this country from the plethora of self-interested and deceiving rats. Small wonder they ignore his palace.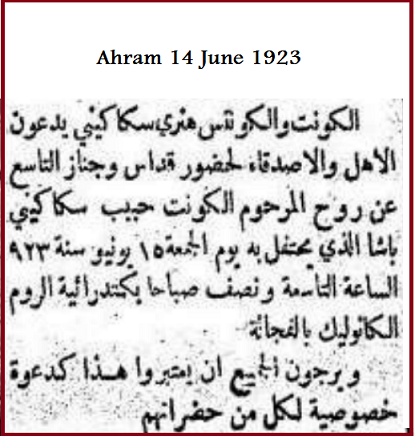 Count and Countess Henri Sakakini invite freinds and relatives to the 09:30 Friday, 15 June 1923 funeral service of Habib Sakakini Pasha at the Greek-Catholic cathedral in Fagalla
since Henri Sakakini was the adopted son of Habib Sakakini Pasha and his wife Marina, his claim to Marina's estate quickly became the subject of legal disputes starting April 1908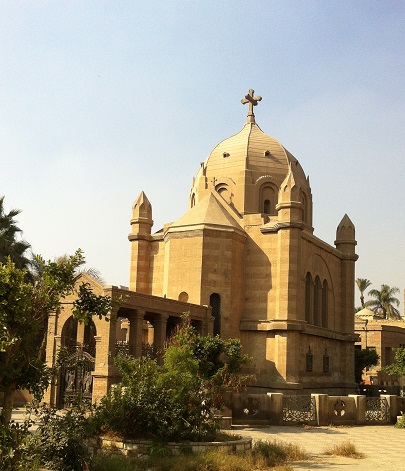 Habib Sakakini mausoleum in Old Cairo
photos Samir W Raafat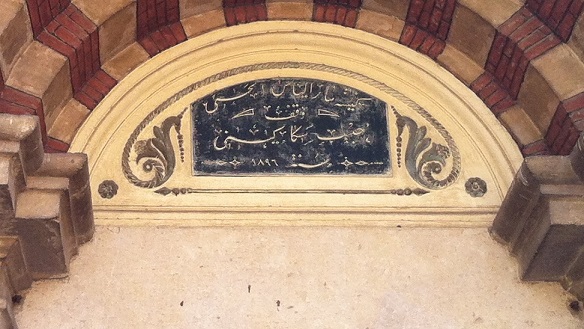 NB: Habib Sakakini Pasha's adopted son Henri (b. 1889) is the grandfather of movie director Asmaa (Fathia) El Bakry through her mother Henriette H Sakakni.
Email your thoughts to egy.com
© Copyright Samir Raafat
Any commercial use of the data and/or content is prohibited
reproduction of photos from this website strictly forbidden
touts droits reserves