egy.com suggests following articles
Several of my articles on Garden City were plagiarized word for word by novelist MEKKAWI SAID (winner of the Egyptian State price for literature!!!!) and re-published under his own name in a three-part series in El-Masry El-Youm daily in September 2015.
Cheers to our "talented" literature prize awardee. Your pain his gain !!!
EGY.COM - LANDMARKS - CAIRO - HELIOPOLIS
GROPPI OF CAIRO
by Samir Raafat
Cairo Times, June 15, 1996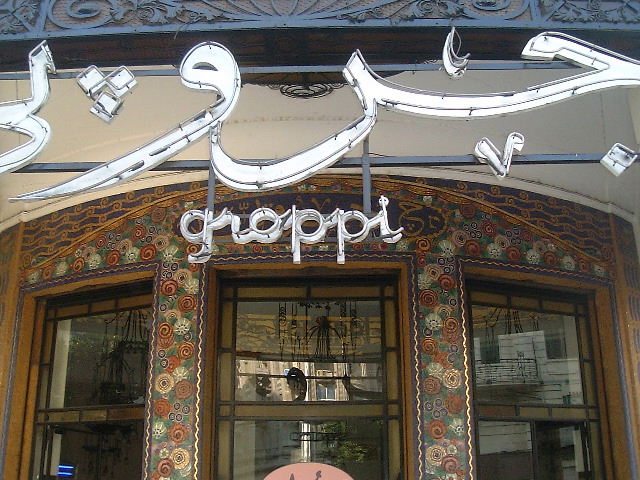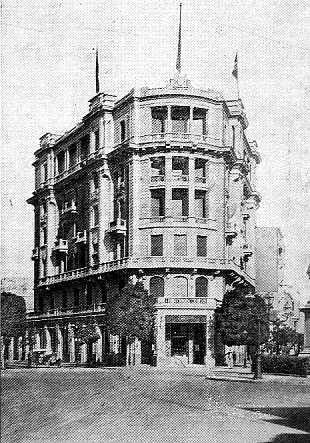 GROPPI, once the most celebrated tearoom this side of the Mediterranean was the creation of Giacomo Groppi (1863-1947) a native of Lugano, Switzerland. In time Maison Groppi became chief purveyor of chocolate to monarchs and pashas throughout the MidEast. Whenever pashas, beys and resident-foreigners traveled to Europe they took with them cartons filled with Groppi chocolates. During WW-II King Farouk air freighted via Khartoum, Entebbe, Dakar, Lisbon, Dublin a lacquered box emblazoned with the royal arms of Egypt and Great Britain. Inside, to the delight of the then-princesses Elizabeth and Margaret of England, were 100 kilos of Groppi chocolates.
After a short apprenticeship with an uncle in Lugano and a brief employment in Provence, south of France, Giacomo Groppi arrived in Egypt in the 1880s to take up employment at Maison Gianola, a popular Swiss pastry and teashop on Bawaki Street, Cairo. In 1890, Giacomo Groppi, now aged 27, bought out Gianola's interests in its Alexandria's Rue de France branch and proceeded to open his own pastry and dairy shop.
By 1900 Groppi was running a successful enterprise annually exporting 100,000 cartons of eggs to the United Kingdom.
At Maison Groppi's second Alexandrine branch, on Cherif Street, Giacomo introduced crème chantilly for the first time in Egypt. This was a new technological feat which he acquired while touring the Exposition Universelle in Paris. Groppi was also the first chocolatier in Egypt to employ a female staff. In 1906, he sold his company to a Frenchman, Auguste Baudrot, and retired. For the next 60 years, Baudrot was regarded first amongst equals whenever compared to Alexandria's other famous tea rooms: Pastroudis, Trianon and Athineos. All three were run by Greeks.
Having lost his entire savings during the economic depression of 1907 Giacomo Groppi was obliged to return to what he knew best: making chocolates, pastries and dairy products. But out of deference to Baudrot, Groppi moved his activities to Cairo's al-Maghrabi Street (later, Adly Pasha Street). With only "La Marquise de Sévigné" and "Maison Mathieu" (renamed Sault) pausing as competition, Maison Groppi was ensured success in the nation's capital.
The formal opening took place on 23 December 1909. By the time WW-I broke out, Groppi's Tea Garden had become a favorite with the British Army of Occupation. A deli was added enhancing Groppi's image as the purveyor of quality food products.
In 1922 Maison Groppi inaugurated its own cold storage company--Industrie du Froid--employing over 120 workers and producing a daily output of 2,400 blocs of ice.
In 1928, Giacomo Groppi's son, Achille, launched his famous ice cream, a technology he imported from the United States. The names of his delicious specialties were as exceptional as they tasted: Sfogliatella, Morocco, Mau Mau, Peche Melba, Maruska, Comtesse Marie, Surprise Neapolitaine. Cairenes were grateful to Achille for yet another creation: the Groppi tearoom situated on Midan Soliman Pasha (now, Talaat Harb).
Decades later, Groppi of Cairo would open a terrace café in Heliopolis overlooking Avenue des Pyramides and the legendary Heliopolis Palace Hotel (now, Uruba Presidential Palace).
Groppi's Cairo Rotunda located on the ground floor of a new building designed by Italian architect Guissepe Mazza, was inaugurated on Thursday, March 12, 1925 . The morning after the papers were all praise about the new Parisian-style café and the titanic reception that Achille and Giacomo Groppi had given to mark the occasion. The description in the Egypte Nouvelle, better left in its original French for fear of reducing the effect was as follows: "Il serait dificile, en effet, de rever cadre plus somptueux et, en meme temps, de meilleur gout que celui dans lequel se deroula cette soirée inoubliable... Avec ses piliers gainés de marbre, sa cloture aux larges vitres garnies de brise-bise mordorés, et l'immense et splendide verrière en rosace qui forme le plafond de sa coupole tronquée, la vaste rotonde, constitue un palais féerique, le plus élégant, le plus beau qui a été, de mémoire d'homme élevé ici à Terpischore..."
International celebrities visited the Rotunda whenever in town. All admired the art deco design and the wonderful mosaic display by A. Castaman. Soon enough Cairo's top social and official functions took place there and the rotunda became the rendez vous. Not surprising since Groppi's famous non-stop concert dances featured a 20-piaster set menu. Performers inthose days included leading orchestras such as the Mondial Boys, Alexander Kontorowicz, Cherry Pickers. And on Sunday mornings the Rotunda was home to concerts performed by the Egyptian State Broadcasting's (E.S.B.) Small Symphony orchestra.
In the interwar period, Cairo's first outdoor cinema was launched in Groppi's garden at the Soliman Pasha branch. In her book Cairo In The War 1939-45 Artemis Cooper relates how Groppi was one of the few smart places open to everyone. There were two Groppi's, "one on Midan Soliman Pasha and the other on Adly Pasha Street which boasted a garden where pashas came to sip coffee and eat cream cakes with their Levantine mistresses and where officers on leave looked out for female companionship."
To accommodate the less privileged Maison Groppi launched a chain of pastry and coffee shops "A l'Americaine". By the 1940s, Groppi owned its own farm situated outside Cairo at Geziret al-Dahab. On 1,400 feddans Maison Groppi operated a dairy and poultry unit as well as a herb, veggies and exotic fruit plantation. A laboratory equipped with the latest technology was imported to ensure the highest quality control. The public was invited to visit Maison Groppi's laboratories and installations on any Monday between 10 and 12 a.m.
For many decades society's best catered exclusively from Groppi. All it took was one telephone call from the royal palace, a pasha's villa or an embassy and Groppi took over. This premium service continued uninterruptedly despite the 1961 nationalization of Egypt's entire private sector. Even the presidential chefs could not replace Groppi.
Thankfully Groppi's two main branches miraculously escaped complete destruction during the anti-British Black Saturday riots of January 1952 which ended with the burning of Cairo. Yet an eyewitness report states how at around 14:00 a black Citroën entered Soliman Pasha Square. From the car window the passegners frantically waved Egypt's crescent & three stars) green flag. Suddenly, a rousing mob came as if from nowhere and the traffic came to a complete stop. The flag-waving car made three or four more turns around the Soliman Pasha's statue and disappeared. Suddenly, there was the sound of shattering glass as Groppi's display windows were stoned. Some of the frenzied mob went inside and escorted the employees safely outside while others climbed the wall reaching out for the Groppi sign in an effort to dismantle the royal emblem next to it. Sacks of sugar and flour were dragged into the square. Soon everything was blacked out because of the smoke which carried with it the aroma of burning sugar.
Groppi survived Black Saturday and resumed its unchallenged position as Egypt's leading chocolatier. But somehow it would unwittingly find itself a reluctant pawn during the squalid political machinations that followed. On 20 March 1954 Egypt's emerging strongman Colonel Gamal Abdel Nasser ordered the placing of a bomb in Groppi's patisserie. While the detonation caused widespread panic, thankfully no one was hurt.
The objective of Nasser's macabre exercise was to promote a feeling of public insecurity. The power struggle among the Free Officers had reached a new climax and the vicious smear campaign against Egypt's first president General Mohammed Naguib had somehow made its way inside Groppi.
Forty years later, the legend of Groppi exists in name only. The rot and decay of the socialist 1960s had taken their heavy toll. By the time Egypt returned to the ways of an open economy, Groppi's descendants had already abandoned the trade and left Egypt.
The rest is history.
---
Read also Newsweek on Groppi by Vivian Salama
---
Date: Thu, 1 Dec 2011 09:48:10 +1100 [12:48:10 AM EET]
From: Samia Kamal (Australia)
I worked at Groppi as a "Caissière", for about 5 yrs, I started at "A L'Americaine" in Soliman Basha, & was moved to the main Groppi in Midan Soliman Basha, that is where I met, (to collected the money from,) Omar El Sherif & Faten El Hamama) they were both so young then, & so was I, much younger than them though… I then was transferred to Groppi Heliopolis, & I retired from there to have my baby just a couple of years before we migrated to Australia. I was devastated when I visited Cairo for the first time, about 10 yrs later, to find that Groppi was just a name on a shop that resembled nothing from my younger days, I stood there & cried……
Thanks for the memories, may God Bless you…
Kind regards

---

Subject: Wonderful mosaic by A. Castaman
Date: Fri, 16 Aug 2002 11:24:46 +0100
From: Gerald Luckhurst

Hello Samir,

I am writing from Sintra, in Portugal. We too have mosaics by Castaman (Venice?) at the Quinta da Regaleira. Do you know any more about this artist? I am writing a book about the Quinta and would like to find out more. yours sincerely,

---

Subject: Groppi's
Date: Fri, 11 Dec 1998 14:01:10 +1100
From: Albert Braunstein

Regarding your article about Groppi's in the Egyptian Mail. My parents still rave about a cake called l'Argentin, which they bought at Tseppas (or so they remember). It was probably made with chocolate & egg whites & a soft chocolate cream and literally melted in your mouth. It came surrounded by silver paper, hence its name l'Argentin. It must have been a specialite maison and my mother has been unable to find it in any cook book. Do you know the recipe? My parents spent many an afternoon at The Dansant at Groppi's and really enjoyed your article.

---

Subject: Groppi
Date: Wed, 6 Oct 1999 07:36:17 +1000
From: Cely Benchoam

Thank you for your beautifullly researched and detailed history on our beloved "Groppi" - Only a lover of Groppi (like me) can dedicate his/her time for this research. I certainly was not aware of the full role "groppi"played in History... so many thank for the lesson.. Best regards
Cely Malki Benchoam



---

Subject: Alexander Kontorowicz
Date: Fri, 24 Nov 2000 15:16:24 +0200
From: Martin Stolk

I am on a quest for a befriended Ethiopianist. He is looking for more information on Alexander Kontorowicz, who you mention in your 1996 article on Groppi's. According to the information i have Kontorowicz stayed in Egypt for 11 years (1934-1944) as court violonist, professor at the Royal Institute of Music, and Head of the Music Department at the University King Fouad I. Between 1944 and 1948, he was General Director of Music and Court Violinist in Ethiopia apparently he was a fellow-student of Jascha Heifetz.

Do you have any more information on this illustrious personality?? or do you know where i can get it??

Richard (Woffenden) recommended to me Retiba Hefni of the conservatoire obviously the Cairo university music department on Shagerat el Dor Street would be a place to go too. If you can help I'd be delighted..
thanks


---

Subject: Groppi
Date: Thu, 30 Sep 1999 12:46:13 -0400
From: Chantal Hoss
Organization: McGill University

I was born in Cairo 65 years ago. I'm a grand mother who writes stories for my grand children. I lived on Midan Soliman Basha at the intersection with Gamegh Sharkass sreet, across the square from Groppi. What a pity it has burned down! I have to write a story on Groppi now. Believe it or not, one of my stories is about Souk Bad el Louk and the fowl stores, with both the khakham and the muslim cheikh who slaughtered the birds according to the kosher or the hallal rules of tradition. I thank you so much for writing so profusely about my headquarters, who were indeed the loveliest and the most affected parts of unreachable, uncomparable Cairo. Pity, pity, it took me two years to recover from the visit I paid to my beloved Egypt, after 32 years of absence. Should you drop me a line, please tell me what does Bad el Louk, means? The Gate of WHAT or WHO? Congratulations for your so genuine articles.
P.S.
Graduate Student, Mc Gill University, presently writing a paper on philosopher René Habachi. If you want to hear more about him, you can use my E-mail address.
Email your thoughts to egy.com
© Copyright Samir Raafat
Any commercial use of the data and/or content is prohibited
reproduction of photos from this website strictly forbidden
touts droits reserves