egy.com suggests following articles
Several of my articles on Garden City were plagiarized word for word by novelist MEKKAWI SAID (winner of the Egyptian State price for literature!!!!) and re-published under his own name in a three-part series in El-Masry El-Youm daily in September 2015.
Cheers to our "talented" literature prize awardee. Your pain his gain !!!
EGY.COM - LANDMARKS - CAIRO - HELIOPOLIS
The Grand Vezir's Townhouse
by Samir Raafat
Cairo Times, 7 June 2001
---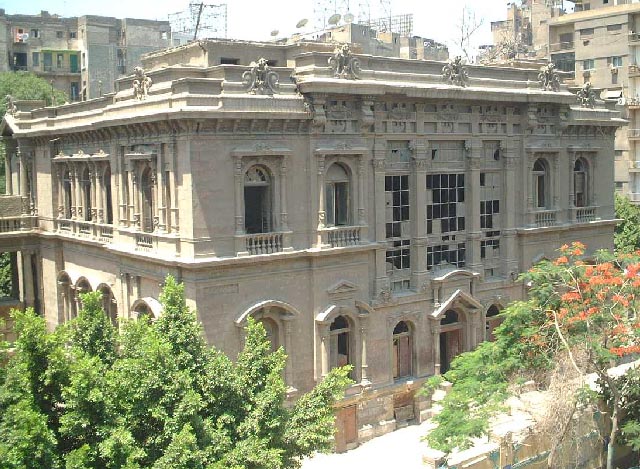 back view of pink marble palace of Prince Saiid Halim Pasha designed and constructed in 1899 by Antonio Lasciac Bey (Gorizia 1856 - Cairo 1946)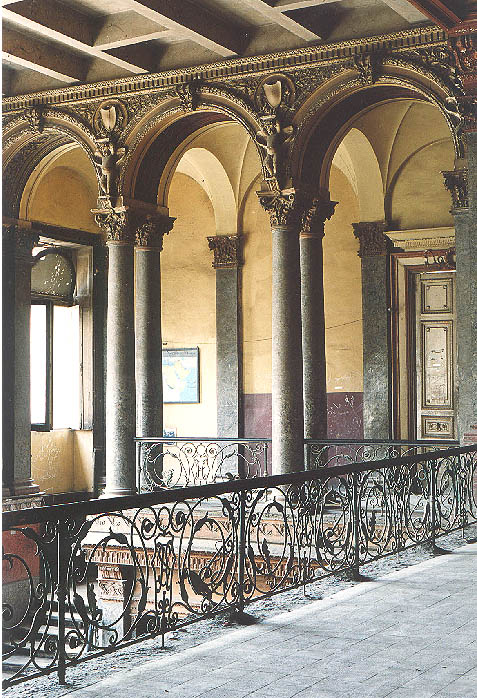 interior staircase (photo courtesy of Franco Gambarelli; yr 2000)
Visitors walking in or out of Cairo's trendy Townhouse Gallery on Mimaar Hussein Pasha Street (Sheikh al-Maarouf district) are bewildered at the derelict palace that stands nearby. Occupying an entire block it looks like it's a set from Roman Polanski's remake of Vampire's Ball.
But what is such an ex- magnificent edifice doing in the middle of a district cluttered with garages, mechanics, street coffee shops and mounds of rubbish. Who designed it and who lived there? More importantly, why is it in such a sorry state?
To begin with, the architect was court architect Antonio Lasciac, Egypt's renowned palace builder. Italian by culture and an Austro-Hungarian citizen by accident of birth, his clients included members of the Khedivial family, Cairene notables and trusted institutions. Among his more visible works are Banque Misr on Mohammed Farid Street and the Palace of Princess Nimet Kemaleldine (a.k.a. Palace of Prince Jamil Toussoun) currently being restored, across from the Arab League.
In the case of the palace subject this article and as attested by the superemposed monograms "SH" on the many decorative pillars, his client was Prince Saiid Halim Pasha, a grandson of Mohammed Ali.
Born in the Palace of Shubra in 1865, history has it that Prince Halim's father could have been the ruler of Egypt had it not been for an ambitious nephew upstaging him at every level of the way right into the Sultan's inner court in Istanbul. Disregarding tradition and using lavish gifts and bribes Khedive Ismail made sure it would be his own son Tewfik and not his older 'Turkish' cousins who would succeed him.
The two cousins most likely to have succeeded Ismail, prior to the Firman of 1873 establishing primogeniture, lived in Istanbul and had at one time or another, occupied senior military and cabinet posts in the Turkish government. Having grown up on the Bosphorus they were familiar with and most probably inspired by the palaces of Topkapi, Dolmabahce and Beylerbey.
One cousin, Saiid Halim Pasha, was also enamoured with Rome--the city he would be assassinated in years later by an Armenian terrorist, Arshavir Shiragian, on 6 December 1921. His choice of architect and style for his Cairo palace was therefore decidedly Roman. Moreover, Halim, a man of luxurious taste, made sure most of the material used in the construction and decoration was imported directly from Italy. A tout prix, il fallait epater les cousins! (At all cost, one must impress the cousins!)
It is said however that Prince Halim's wife, Amina Indji Toussoun, herself a great-granddaughter of Mohammed Ali, did not particularly like the palace. Her preferences lay with the Bosphorus, where she would eventually die in 1915, the venerable wife of the Grand Vizier of the Ottoman Empire.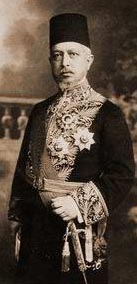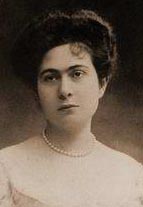 Prince Said Halim and his wife Amina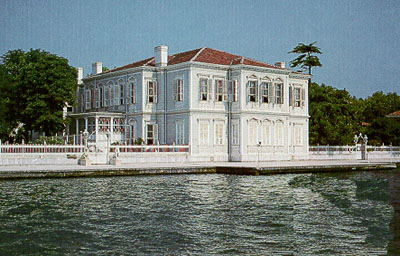 Designed by Petraki Adamanti, Prince Saiid Halim Pasha's Ottoman yali stands on the upper European shore of the Bosphorus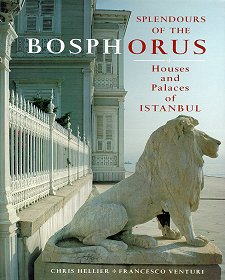 Egyptian lions guarding Prince Saiid Halim's yali in Yenikoy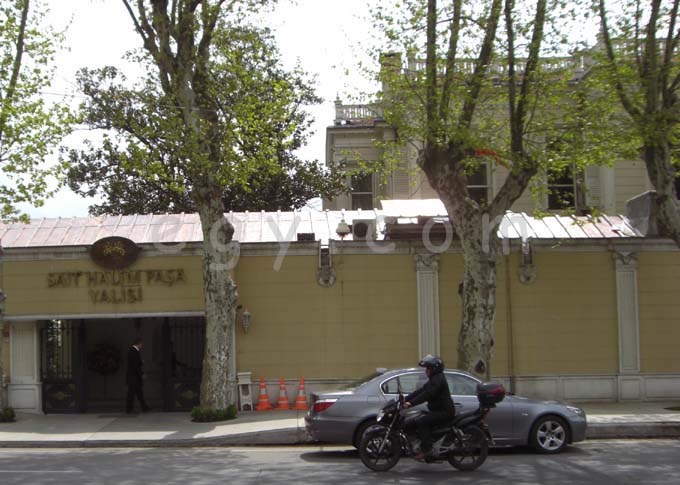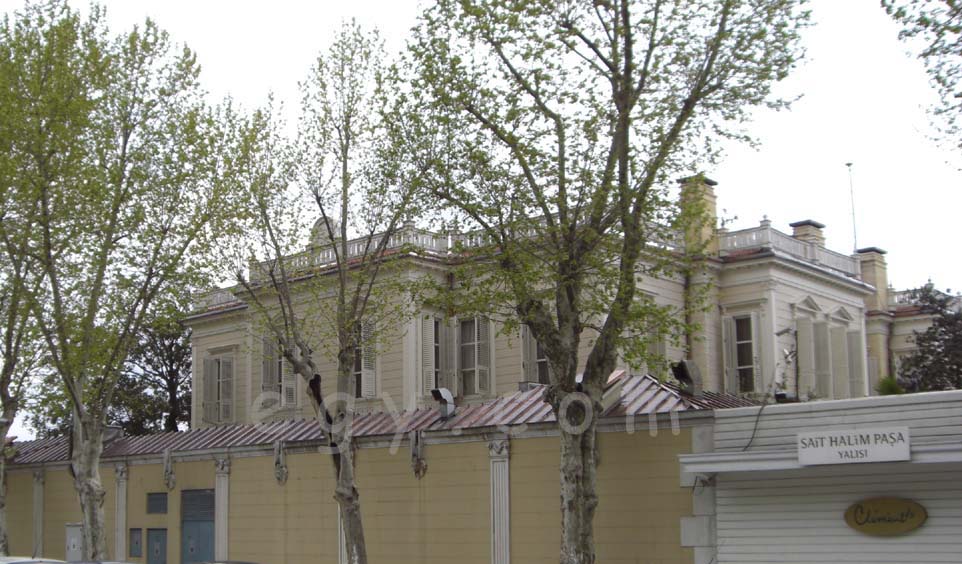 ---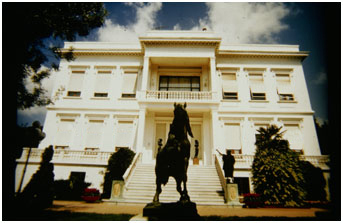 Bosphorous villa of Princess Iffet Hassan at Emirgan today the Sakib Sabanji Museum
When Mahmud Shevket Pasha, Prime Minister of the Ottoman Empire was shot on 11 June 1913 while crossing Istanbul's Bayazid Square, he was replaced by Prince Saiid Halim Pasha. For the next few years Halim was the illustrious boss of the quintessential Sublime Porte--official seat of the Ottoman government. In his capacity as Al Sadr al-A'zam a.k.a. Grand Vizier, Halim Pasha was the highest official in the empire. Yet it was no secret, both at home and abroad, that Halim was a pawn in the hands of the Young Turks, that powerful movement that had taken over the country's destiny. Wanting among other things, to introduce a constitutional government in an ailing autocratic empire ruled by Sultan Mehmed V., the Young Turks instead brought the empire to its accelerated demise.
One can say Halim's standing in British-controlled Egypt was doomed on 2 August 1914, when, in his opulent yali in Yenikoy, Turkey signed a secret alliance with Germany committing itself against the United Kingdom.
Three months later to the day Britain, France and Russia declared war on Turkey. Although he threatened to resign, Prime Minister Halim Pasha was reluctant as ever to give up the sybaritic pleasures of his post. As a result he witnessed first-hand the final scene to a 300-year Ottoman presence in Egypt, now officially declared a British Protectorate.
On 13 March 1915 in Cairo, by order of the Egypt's British occupiers, all of Halim's assets as well as those belonging to his siblings and their respective families, were confiscated. These included large landholdings, several properties and bank accounts and, the Halim Palace in Cairo's Ismailia district.
The palace was turned into El Nasriya School for boys where many a future senator, deputy and cabinet minister received his preparatory education. At first, the school occupied the entire palace property which is why the address given in 1920 was still No. 9 Antikhana El Masriya Street. A few years later the palace park disappeared so that where Royal Palms, fountain and garden had been, came new apartment buildings fronting Antikhana Street. The school's address was changed to No. 6 Rue Champollion (ex-Wabour al-Maya; ex-Mouillard) Street.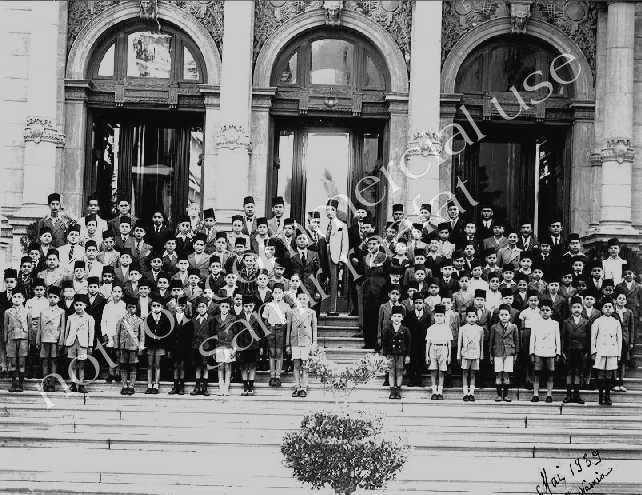 Nasriya School 1939 (courtesy Kamal Nabih)
For a long time El Nasriya was considered together with El Saiidiya School across the river, as the leading educational establishments for sons of pashas and beys, a stigma that would later earn Halim Palace its ultimate death sentence.
With the extinction of titles and Egypt's old bourgeoisie, the palace became the unlucky ward of the ministry of education. Thereafter, the deterioration came in steady increments fueled by ignorance and greed. A dispensary here, an office for the ruling party there, plus the indiscriminate building of brick walls on the balustrades and the pilfering of the priceless pink marble and other rare historical rarities.
The rest is shameless history.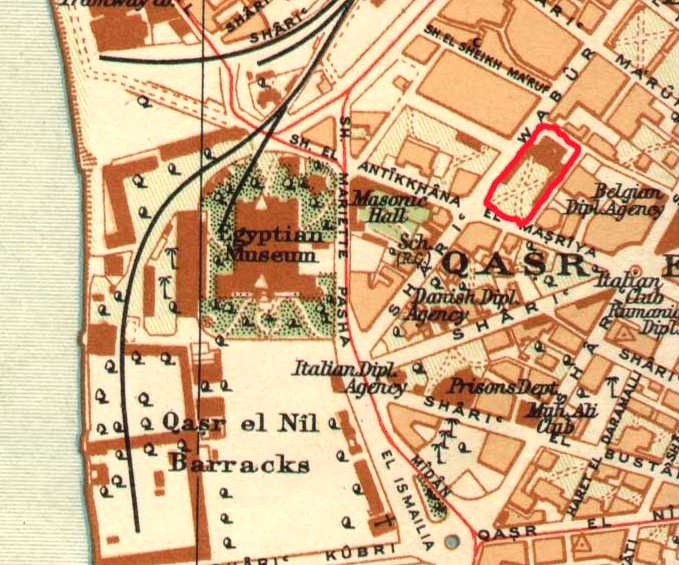 1920 map showing Halim Palace fronting Antikhana Street
---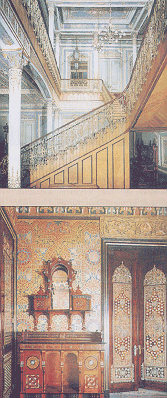 click here for Mohammed Ali Family Tree
Notes:

The yali (Bosphorus villa) of Saiid Halim Pasha was nicknamed the "Pink Yali With Lions" because of two Egyptian stone lions standing guard on the quay. The yali's architecture was western in style with empire overtones (see picture to right). The reception-room had Egyptian motifs. Considered one of the finest and best preserved buildings on the Bosphorus, the yali was partially destroyed by fire in 1995 and is now being restored.
Just before he was arrested (by order of the British in March) and subsequently deported from Istanbul to Malta in May 1919, Saiid Halim Pasha, a pan-Islamist, offered his estate on the Bosphorus containing woods and a number of fine buildings for the purpose of founding an Islamic University. The offer was not taken.
While imprisoned in the British colony of Malta along with his brother Prince Mohammed Abbas Halim, Saiid Halim Pasha claimed he had received a communication from the Nationalist Party in Cairo offering him the throne of Egypt once its independence was a fait accompli. At the time, Egypt's throne was occupied by Halim's nephew, Sultan (later King) Fouad
South of Yenikoy, on the European shores of the Bosphorus at Emirgan, stood the kiosk, yali and park belonging to Khedive Ismail, the same place where he died in March 1895. Emirgan Parki today consists of three pavilions: the Pink Kiosk, the Yellow Chalet and the White Pavilion, a legacy from Egypt's khedives.
Also in Emirgan stands the seashore house of Princess Iffet Hassan, a granddaughter of Khedive Ismail. The house has been restored by the Sakib Sabanji Foundation and is today a wonderful museum.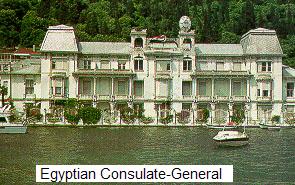 Closer to Istanbul overlooking the Bosphorous in Bebek stands the Hidiva Saray turned into Egyptian consulate-general. (click on Hidiva Saray)
Almost diagonally north the Bebek Saray, on the Asian side of the Bosphorus, stands Cubuklada Misir--Villa Cubuklu a.k.a Hidiv Kasri and its dependencies designed by Antonio Lasciac. These belonged to Khedive Abbas Hilmi before he sold them in March 1937 to the municipality (Beledeyesi) of Istanbul. The villa was restored in 1983-84 by the Touring Club of Turkey and turned into a 14-room hotel Hidiv Kasri. Although hidden by the surrounding woods, the villa's tower can still be seen from the Bosphorous.
Author of above article would like to thank Diego Kuzmin, Laila Hegazi-Genena and Kamal Nabih for their kind assistance.


Reader Comments

Subject: The Grand Vezir's Palace
Date: Thu, 12 Jul 2001 06:58:32 EDT
From: Adel N. Zaki

As an ex-Nasriya student I found the website on The Grand Vezir's Palace most interesting. I also came across Kamal Nabih's e-mail listing names of students and teachers.
A point I would like to highlight is the high caliber of teachers we had at the Nasriya.
Dr Rashad Roushdy later head of the English Dept Faculty of Arts, Cairo University and a prominent writer was my English teacher in the Nasriya .Saad El Khadem related to the Egyptian royal family and a prominent artist in his own right was my art teacher. Fathi my mathematics teacher obtained a Ph. D. in pure mathematics and joined a UN atomic research organization in Vienna, Austria.

---

Subject: Nasserieh Primary School
Date: Thu, 7 Jun 2001 17:37:50 +0300
From: "Kamal Nabih"

I was in Nasserieh Primary School from 1936 to 1939. But I must say the crumbled down palace of today has absolutely nothing to do with our lovely Nasserieh Primary School, and with Maarouf quarter of Cairo where it was situated. I still remember the happy years we spent there. I remember the teachers : Fathy Effendy : English, Fouad Effendy : Arabic, Fouzy Effendy : Mathematics, and the famous head-master Badrawy Bey. Look at them in the picture; how they are dressed !! and please notice their respectable satisfied, attitude and the proud, dignified look on their faces. I also remember my class, with Ahmad Ramzy (our famous actor), Dr. Hashem Mooro, Dr. Hisham Mooro, Cherif Zoulficar (Queen Farida's brother), Khorshid Thakeb and many many others. I remember the class-rooms, wide, clean, and well lit. The restaurant (the Yamak-khana), clean and serving our daily 3-course plus desert lunch. And in the lunch break (the big fous-ha) we played in a beautiful garden. The building was impeccably clean, as can be seen from the glittering, shining glass of the huge French-windows in the picture.
The school had a German (or maybe Swiss) "Matron" to over-see, I canít remember what. You can see her in the back of the stairway picture.
I am sorry, but the pictures donít seem very net. But originals still exist, together with many still living witnesses of a past era that we are proud to have experienced. Thank you for recording our school's history.


below: teachers


Nasriya School (courtesy Kamal Nabih)

---

Subject: Adieu Halim Palace
Date: Mon, 4 Jun 2001 10:02:46 -0700 (PDT)
From: Ahmed Seifelnasr

I was very interested by your article especially since both my grandmothers are related to Halim Pasha (see Mohammed Ali family tree). Thanks for the info. I've passed that forgotten palace many times and I've always wondered about it. Look in contrast how lovely the Turkish palaces are, so that even the Egyptian lions have satisfied looks! A thought comes to my mind, if the Ministry of Culture has an email address, why don't you forward your articles to them. Cc. the minister himself.

---

Subject: Date: Thu, 21 Jun 2001 18:09:26 -0400
From: n. b. , canada

Thank you so much for this wonderful article and photos. i always envied the kids who went to school everyday and spent their day in these surroundings. many questions were answered about this incredibly beautiful palace, many still remain.
There are also two beautiful but smaller schools just opposite the Lycee Francais school for girls in bab el louk. I used to stand and look at the ceilings of the class rooms and wished to be a teacher there even for free. This must leave an appreciation for beauty and quality (the materials of the buildings are of very high quality) in the children who attended school and must be with them all their lives. Yet as upsetting as it is to see the buildings being so neglected and used, i was told once, that this was a way to keep them from being sold and destroyed.
Well cairo has so many buildings to be considered for restoration that if one of them only was in north america they would have made a great fuss about it. we just have too much history and it is a heavy load sometimes when the basic needs are not met for most of the people. I hope this palace could still be restored (i used to feel like bringing a big hose and wash the pink marble) see how it will show. What a lovely corner of cairo this would be if it is restored to it's previous splendour, a museum could be opened, instead of building new ones for millions and millions (and never coming close even to this marvel). Maybe a museum for Um Kulsum, or of Cairo and its people in the last 100 years!

---
Email your thoughts to egy.com
© Copyright Samir Raafat
Any commercial use of the data and/or content is prohibited
reproduction of photos from this website strictly forbidden
touts droits reserves