egy.com suggests following articles
EGY.COM - JUDAICA
ANDRE ACIMAN'S OUT OF EGYPT

by Samir Raafat
Egyptian Gazette, December 21, 1996
COMPARE
MAADI 1904-62;
Society & History in a Cairo Suburb
OUT OF EGYPT
[Maurice George] Levi's fine-tuned early warning system told him he too would not be retiring in Maadi or in Egypt for that matter. He began to formulate his getaway plans as early as 1946. The first and most important step was to capitalize on the significant rise in departures since the end of the war. The next step had been to Anglicize his name. Neither Moise nor Levi would do - much too revealing. Finally, there was the question of a new nationality. Being stateless had been a nuisance, and the subsequent acquisition of an Italian passport had turned out to be a handicap during World War II. Moreover, having collaborated with the British authorities during the war, he could not envisage taking up residence in Italy. British citizenship was the perfect answer!

Levi had been Egypt's' leading expert-auctioneer and valuer since 1935. It was Levi who supervised the auctions covering the estates and household effects of Maadi's early residents ....

The [ex-Royal] first auction took place at Koubeh Palace in spring 1954. It was followed by another the following year, and a third in January 1956 at Abdine Palace. Levi had been personally approached by a certain member of the R.C.C. [revolutionary command council] to handle the auctions under the cursory supervision of the new and inexperienced Department of Confiscated Properties. Levi contacted Sotheby's of London...

One man in gilded retirement in England, no longer cared. Now Lee, no longer Levi, was a respected British country squire for enjoying an idyllic 16-acre spread in Sunigdale, Ascot...

When the British began threatening to round up all adult Italian males living in Alexandria, Uncle Vili offered to spy on the Italians on behalf of the British. He reminded them as an Italian Jew he couldn't possibly be considered a threat to British interests... ...while proclaiming his undying allegiance to the fascio, he had already become an agent of British intelligence.

Vili was to end his professional career in Egypt as the sole auctioneer of deposed King Farouk's property. The Sotheby's of Egypt...

'Just look at this,' he pointed out to a vast expense of green. 'Isn't it splendid?' he asked, as if he had invented the very notion of an afternoon stroll in the English countryside... 'You know - everything I wanted, I got. Not bad for a man in his nineties'. Arrogant self-satisfaction beamed on his features.

After leaving Egypt, Uncle Vili retired in a sprawling estate in Surrey later on where he lived in lordly penury for the remainder of his days under the assumed name of Dr. H.M. Spingarn. Uncle Vili, who had given up his distinctly Jewish name for an Anglo-Saxon one...

Wearing old tweeds, Clark boots, an ascot, and a stained cashmere cardigan, he looked the part he had been rehearsing all his life: a Victorian gentleman...

UNDERSTANDABLY, Andre Aciman's family chronicle OUT OF EGYPT was acclaimed by readers all over the world. My surprise was boundless however when I discovered the author's central character--Great Uncle Vili--was borrowed from a contemporary who lived in another part of Egypt. His name: Maurice George Levi.
MORE than just a handful of persons commented or spoke to me on Out of Egypt, Aciman's first book which talks about his family's exploits in Alexandria. The more discerning readers among them alluded to similarities between my book on the history of Maadi and Aciman's family memoir. "The zeitgeist is almost the same." In other words both books share the same socio-political backdrop and events.
To those people and others I would like to set the record straight by outlining (see box) common traits between the two books. But first I must confirm I've never met Princeton Andre Aciman who is currently a professor of French literature and a poetic commentator on Sephardic life. Second, his reply comments on (i) my article Were There Two Of Them? published in the Egyptian Mail on 14 October 1995 and (ii) an to my letter pointing the biographical coincidences, were far from helpful which is why I am unable to give any convincing explanation for these striking similarities. Maybe historical serendipity has something to do with it!
OUT OF EGYPT (Farrar Straus Giroux, New York, ISBN 94-061187) is a memoir and chronicle of Aciman's family--Sephardic Jews who came to Egypt from Turkey earlier this century. The book's jacket reads "Set in luxuriant cosmopolitan Alexandria, this richly colored memoir chronicles the exploits of a flamboyant Jewish family from its bold arrival in Egypt at the turn of the century to its defeated exodus three generations later. In elegant and witty prose, Andre Aciman introduces us to the Olympian figures who shaped his life: Uncle Vili, the strutting daredevil, by turns salesman, Italian Fascist, and British spy...
Aciman's great-uncle Vili is described in great detail in the book's first chapter Soldier, Salesman, Swindler, Spy. his character and panache caught the critics' attention especially those reviews published in the Washington Post (Jonathan Yardley) and the Los Angeles Times (Richard Eder).
A fascinating man, Vili forms the direct link between Aciman's OUT OF EGYPT which appeared in New York in January 1995 and my book MAADI 1904-1962; HISTORY AND SOCIETY IN A CAIRO SUBURB, (Palm Press, Cairo ISBN 977-5089-07-7) which appeared eight months earlier in Cairo. May 1994 to be exact.
In my book Vili's double appears under the name of Maurice George Levi, one of Maadi's quainter residents between the period 1930-56.
THE BARE FACTS
While I don't know the reasons behind the similarities between Vili Aciman and Maurice Levi or what little else has been conjured up in Aciman's book, I will however argue that Andre Aciman's great uncle Vili was NEVER the auctioneer of King Farouk's property. Likewise, he was NEVER the Sotheby's of Egypt. The man who was involved with these events AND considered Egypt's Sotheby's was Maurice G. Levi (alias Lee). Yet There is no mention of Levi anywhere in Aciman's book.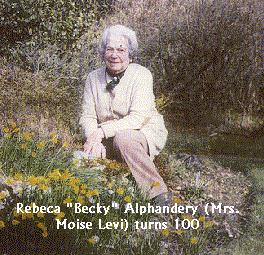 My sources on M.G. Levi came from various testimonials supplied by his former neighbors and surviving contemporaries including (through a common friend) Levi's only daughter Denise Nini Axler Sciama, whose mother, Mrs. Rebecca Alphandery Levi turned 100 last week. Moreover, elderly employees at the Maadi Sporting Club still remember Levi referring to him fondly as el-namroud, meaning the strutting rogue.
There are many newspaper clippings about Levi's activities including those announcing Levi's name change on March 27, 1947.
According to various published sources it was Moise Levi a.k.a. Maurice Lee --and no one else--who handled the major auctions in Egypt including the sale of confiscated assets belonging to members of the Egyptian royal family. When, as a naturalized British subject Levi was asked to leave Egypt following the October 1956 Tripartite agression, his gallery at No.2 Baehler Passage Cairo was taken over by fellow auctioneers Guido Gasco and Francois Abadi.
Different art catalogues on the above mentioned royal auctions have themselves become collectors items. What is available today on microfilm are the related advertisements and reports covering the sale of King Farouk's private stamp and coin collections; books; palace furniture and equipment; cars; gifts etc. All evidence that these events were handled exclusively by Maurice George Lee, sometimes with the assistance of a London House and to a lesser degree by his competitors Fathallah & Armand Arcache.
According to official commercial and public records published in Egypt before and after the 1952 coup which toppled King Farouk there is not one SINGLE entry of a Vili, an Aciman, Agiman, or a Spingarn involved with ANY royal auction. The name Aciman appears nowhere in ANY of the relevant commercial directories or the Who's Who of that period.
The only entry under Aciman is one Elie Agiman who ran a massage parlor in Alexandria.
When in October 1995 I conveyed to Aciman the above information, this was his reply:
Thank you very much for sending me a copy of your article. I enjoyed reading it... Yours is needless to say, a highly interesting investigatory piece; it almost asks to be the subject of yet another book on... shady bankers and mock pashas! ... Thank you for the close reading. It gratifies me no end.
In 1995 Andre Aciman's received the $30,000 Whitting Writers nonfiction Award for his Out of Egypt. This is an annual literary award which recognizes and provides early financial support to writers judged to possess exceptional talent and promise!!!
GREAT UNCLE VILLI MYSTERY SOLVED AT LAST!...story

Reader Comments


Subject: Comments on "Aciman encore" (1/2/97)
Date: Thu, 25 Jan 2001 13:58:54 -0000
From: Vassiadis, Georg

When I first read Andre Aciman's Out of Egypt I couldn't help but be intrigued by certain aspects of what was otherwise an evocative and mesmerising account of life in post-war Alexandria. Above all, I was puzzled by the fact that Aciman conscientiously refrained from referring to "Uncle Vili" or any of his numerous siblings by their surname (incidentally, the name of his mother's family is likewise glossed over in silence). At the time, I concluded that he was probably motivated by his own--or his family's--desire to maintain a certain degree of anonymity, after all a fair number of family skeletons are exhumed, and a sizeable load of dirty laundry aired, in the course of the narrative.

Nevertheless, Aciman does claim a certain degree of notoriety for some characters in the book, chiefly Uncle Vili, his brother Isaac (said to have been a friend of King Fuad), and his brother-in-law Aldo Kohn Pasha ("the Schwab"). Some time after reading Aciman's book, I had the opportunity to consult several volumes of the Egyptian Directory, which is a splendid source of historical and prosopographical information. While Aciman's reticence made it impossible for me to "look up" Uncle Vili or his brothers, I did satisfy a degree of idle curiosity by checking for the name Aciman. My enquiries drew a blank in the earlier volumes of the directory (and Aciman does say that his father's family emigrated to Egypt from Constantinople only in 1932), but the 1950 edition did contain the following entries:

Albert N. Adjiman, s.p. [sans profession], 48 r. Memphis, Ibrahimieh

Henri Nessim Adjiman, de H. N. Adjiman & Co., dom. [domicile] r. Gawaher, Smouha.

These entries obviously refer to Aciman's father and grandfather, and they prove--if nothing else--that the Aciman family was established in Alexandria in the districts Aciman describes in Out of Egypt.

Now, thanks to Samir Raafat's sleuthing, we know that Uncle Vili was none other than Maurice George Levi, the Cairene art dealer and auctioneer. With this in mind, a renewed perusal of the Egyptian Directory would doubtless reveal entries for him and his putative siblings.

One final mystery: the Egyptian Directory did not contain any references to Aldo Kohn Pasha--a surprising omission given his exalted rank. Until Andre Aciman proves otherwise, one would tend to suspect that he is a literary, rather than a historical, figure.
Email your thoughts to egy.com
© Copyright Samir Raafat
Any commercial use of the data and/or content is prohibited
reproduction of photos from this website strictly forbidden
touts droits reserves