egy.com suggests following articles
EGY.COM - HISTORICA
T HE S AGA O F T HE A GA :
T HE K HAN W HO C OULD B E K ING

by Samir Raafat
Egyptian Mail, October 19, 1996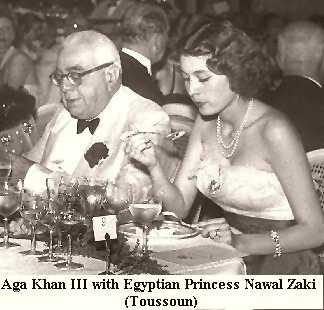 The Aga Khan III (1877-1957) was laid to rest in a mausoleum on a hillside overlooking Aswan. Visitors to Egypt's southernmost city invariably trek the winding sandy path in order to contemplate his serene white marble grave. Few know that besides his love for Egypt and his passion for Aswan, the titular leader and third holder of the title of Imam of the Shiite Nizari Ismailis was for an ephemeral moment a candidate to the throne of Egypt.
Had it not been for an eleventh hour parley between senior British diplomats in Cairo and the deposed khedive's uncle, Egypt would have woken up on 19 December 1914 to discover that the ruling House of Mohammed Ali was no more. Up until then, Egypt was heeded a semi-autonomous Ottoman province but in actual fact it was a protectorate of the British Empire ever since the latter defeated Egypt's army in 1882. Turkey's dominion over Egypt had since been a figure of speech save for a few superfluous protocol-like details. As for the pro-German khedive, Abbas Hilmi II, he was told in the most unflattering terms to spare himself the return journey from Istanbul, where he was visiting his suzerain the sultan. Britain had already begun scouting around for a more apropos substitute.
The principal candidate was the Khedive's uncle, Prince Hussein Kamel, a younger son of the bankrupt Khedive Ismail whom the European Powers had removed 27 years earlier.
A man of principle, Prince Hussein was reluctant to accede to the Britain's offer which he perceived as a poisoned gift. The throne of Egypt rightfully belonged to his nephew. In the latter's absence or incapacitation it should have rightfully passed on to his son. Hussein's acceptance therefore would make him an opportunist and usurper. Moreover, he would have to contend with the hostility both within his own family and that of his subjects who would most certainly regard him an imposition by a Christian occupier.
After some procrastination that lasted a few hours, the prince made it known that if the British were to accord him the title of King, guarantee him a hereditary monarchy, and allow him to choose a flag, he would give in.
The triangulated negotiations however failed. As WW1 gained momentum the British were hard pressed to find an acceptable substitute ruler for Egypt especially now that the sitting government made it known they would not serve under a throneless British Protectorate.
Why not import a new monarch? It was done all the time in Europe--Greece, Bulgaria and Romania were all ruled by German princelings. All it would take inthe case of Egypt was to find a Moslem potentate to rule Egypt. At Whitehall the name Aga Khan came up. Never mind he was the spiritual leader of a Shiite sect which had no followers in Sunni Egypt. The Fatimides had, after all, ruled Egypt for 250 years and the Aga, who claimed lineage to the Prophet, was their descendant.
But there was no need for any princely imports since at the last minute, Prince Hussein accepted the British offer albeit with the title of sultan and the reference of Sa Hautesse instead of Sa Majeste. The question of a new flag would be negotiated as would a new obliging government. Egypt's foreign affairs meanwhile, would continue to be the preserve of the British High Commissioner.
Le khedive n'est plus, vive le sultan! The House of Mohammed Ali ruled Egypt for another 39 years.
Coincidence would have it that the first state luncheon given by Sultan Hussein--on Boxing Day--was in honor of the visiting Aga Khan III a.k.a. Mohammed al-Hussein Mahallati Shah. He had arrived just as Egypt's new monarch took over the symbolic trappings of power. According to Sir Ronald Storrs, Oriental Secretary at the British Consulate-General, the purpose of the Aga Khan's visit to Egypt had been "to convince the dubious Moslems of the possibilities and advantages for Islam under British protection".
As far as the British were concerned the Aga represented a legitimate Islamic authority whose growing sect encompassed several million followers scattered across Asia and Africa. Perhaps they didn't know the epithet "Aga Khan" originated as a pet name (Aga=Tartar origin; Khan= designation of nobility) and not as a title. It started with Hassan Ali Mahallati a.k.a. Aga Khan I (1804-81) and was later adopted as a hereditary family name by his descendants.
A governor of a small province in Persia, the first Aga Khan had been an unsuccessful insurgent against his sovereign. Having fled Persia in 1840 Hassan Ali Mahallati (Aga Khan I) found sanctuary under the protection of the British Raj (today, India, Pakistan, Bangladesh, Afganistan ). In Afghanistan he provided mercenary services to the invading British army. In return he received a pension and an honoray title from the British Government.
Under the British Raj Hassan Ali Mahallati established his religious authority over a small Muslim "Khojah" community of converted Hindus living on the west coast of India many of whom would later emigrate to East Africa.
In 1866, the fate of this Moslem community was institutionalized when magistrate Sir Joseph Arnold decreed the Aga was its undisputed religious leader. At about this time Hassan Ali Mahallati reportedly guided his flock towards the doctrine of his ancestors: the Ithna'ashriyyah persuasion of the Shi'a sect of Islam. When he died in 1881, the Aga was succeeded by his son Ali (Aga Khan II) whose leadership lasted four years ending in 1885. His untimely death catapulted the Aga Khan III to the Imamate at eight years of age.
In 1898 the young Aga Khan III visited Europe for the first time. If at Istanbul's Ottoman court he involved himself with the fate of Palestine, in Europe he professed to represent the fate of the Moslems at large. His forte howevr lay with the sub-continent of India where his services were sought by the British. Like his grandfather the new Aga Khan was rewarded with one of the highest decorations possible for any Indian subject. It was therefore as Sir Aga that the Aga Khan III led the British Indian delegation to the Round Table Conference held in London. Moreover, in 1937 he was allowed to represent the British Indian government in the League of Nations which he ultimately headed up until its demise in WW2.
The other Moslem at the League was Egypt's representative Ali Chamsi Pasha. He knew the Aga well for by now the latter had become a regular visitor to Aswan always occupying the same suite at the legendary Cataract Hotel designed by H. Favarger in 1901 for account of its first owner the world's premier tourist promoter Thomas Cook.
During his leadership of the Ismailis the heavy set Aga Khan III was literally weighed annually by his followers against (depending on the occasion): Silver at Bombay, Gold at Nairobi, industrial Diamonds at Dar-al-Salaam, and finally, in Platinum in Cairo. The Aga Khan retaliated to his community with welfare projects using the monies collected during these nominal ceremonies.
During his 72 year Imamate the Aga Khan benefitted his followers when he introduced a series of social and economical reforms. And through adept financial management he became one of the richest men on earth. A leading breeder, his horses made history between 1930 and 1936 winning several prestigious European racing events. Likewise, the Aga was a connoisseur and charmer of women. Married four times his wives were renown for their striking beauty.
At a very young age, in 1896, the Aga fell in love with his cousin Shahzadi Begum. Their marriage was celebrated in typical oriental splendor in India's Poona district. In 1908 the Aga much more mature in the arts of courtship was smitten by the youthful ballerina Teresa Ginetta Magliano of the Monte Carlo Opera. Two sons arrived. The eldest--Guissepe Mahdi-- died while Ali Salomone, who lived to be a legendary playboy marrying Rita Hayworth, died from a car accident in 1960. The Aga's third marriage in 1929 was to a French brunette Andree Carron from whom he begot prince Sadr al-Din. In 1938 while on a visit to Egypt, the 60 year old Aga met Yvette Labrusse, a tall French beauty 29 years his junior. She had been Miss Lyon in 1930 and a Miss Universe contender in 1931. They were soon married and the new Begum Aga Khan would become the legendary Um Habiba.
By 1954 a virtually crippled Aga suffered from both lumbago and sciatica and could barely walk. Three years later and following a prolonged cancer treatment he died in Versoix, Switzerland. Although his grandson Karim became 'Aga Khan IV' and the 49th Hazar Imam of the Ismaili community, it was Um Habiba who attended to the minute instructions left by her late husband especially those regarding funerary arrangements.
Wasting no time Um Habiba commissioned Egyptian architect Mohammed Shafei to construct a mausoleum in Aswan. Special stone and local material would be used and within 19 months all was ready. The body of the Aga was brought to Egypt accompanied by several ulama whose taks it was to administer burial rites befitting the great spiritual leader.
A stickler for detail Um Habiba made sure her husband's wishes were executed to the minutest detail. Nothing would be left to hazard. All that remained was the etching in of the date of her own demise on the marble plaques flanking the mausoleum's foyer.
Since the death of her husband Um Habiba--now 91--regularly winters in Aswan residing in her vantage house situated right beneath the Aga's mausoleum.
Whenever asked how they feel about the Aga Khan III and the devoted Um Habiba, Aswan's devoted Nubians will reply "They are worth their weight in gold." Despite never making it to King of Egypt, the Aga Khan's mausoleum is one of the most visited princely shrines in Egypt,
---
RE: THE SAGA OF AGA KHAN
From: Hydarali Jeraj
Date: 12/10/04
Hi there,
I thank you for the wonderful article on the aga khans family. I was wondering if Um Habiba was still alive? And Guess what ? I live in Dar es-Salaam, Tanzania. I came across a document saying that Prince Sadrudin Aga Khan was registered as a British Citizen in Dar es-Salaam in 1953. This is really interesting considering the fact that this Prince was not living in Tanzania at that time.
regards

Email your thoughts to egy.com
© Copyright Samir Raafat
Any commercial use of the data and/or content is prohibited
reproduction of photos from this website strictly forbidden
touts droits reserves