egy.com suggests following articles
Several of my articles on Garden City were plagiarized word for word by novelist MEKKAWI SAID (winner of the Egyptian State price for literature!!!!) and re-published under his own name in a three-part series in El-Masry El-Youm daily in September 2015.
Cheers to our "talented" literature prize awardee. Your pain his gain !!!
EGY.COM - GARDEN CITY
GARDEN CITY:
A Retrospective PART 6

by Samir Raafat ,
October 15, 1998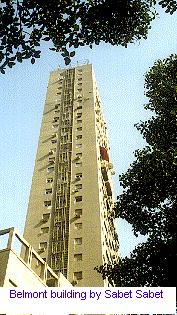 Garden City has another claim to fame: it is home to Egypt's first skyscraper. The arrival in the late 1950s of the country's then-tallest building symbolized the simultaneous rise and fall of its new and old power cliques.
The rise of the neighborhood's skyline was set in motion by Sabet Sabet, a Syro-Lebanese entrepreneur who wanted to leave behind his own personal monolith. Defying gravity he commissioned Naoum Chebib to build him a 30-story reinforced concrete building. Not since "adernach" volcanic cement was first imported in 1910 had Garden City seen a comparable construction revolution. Crowned with a red neon cigarette advertisement that could be seen from as far as Maadi, Cairo's tallest structure was nicknamed "Amarat Belmont." (The name has stuck, though the sign on top now reads "Schweppes.") This aesthetic-free edifice heralded a new direction in architecture, a drastic change in housing patterns, and a bold spirit of vertical urbanization.
But Garden City's rise would also be its fall. Shortly after his building's inauguration, Sabet and his businessmen peers found themselves suddenly marginalized as a result of the sweeping nationalization decrees of July 1961. Socialism had no need of enterprising captains and kings. As a result, power was rapidly shifting from Zamalek, Garden City and Maadi to areas with a higher incidence of military officers--Heliopolis.
The new order hit Garden City with the force of a Tsunami. Every house, mansion or luxury apartment was affected in one way or another. Businesses were closed, liquid assets frozen, entire industries taken over. To complicate matters further, a series of housing bills forbade progressive rent escalation which set in motion the long-term, collective depreciation of Egypt's urban structures. Most affected by these combined developments were the companies that had previously created Heliopolis, Zamalek, Giza and Roda, Maadi and Garden City.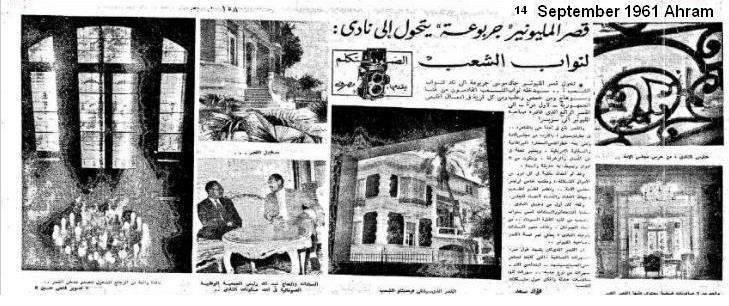 Speaker of the House of Parliament and chief legislator Anwar al-Sadat gleefully shows off to his foreign visitors from Somalia Villa Victoria, which had just become the new Parliamentary Club. Its owner, Jacques Levi Garboua, was summering in Switzerland at the time unsuspecting that Nasser's government had sequestered his Garden City mansion; an illegal move which ultimately resulted in endless litigation between the Garboua heirs and an intransigent Egyptian government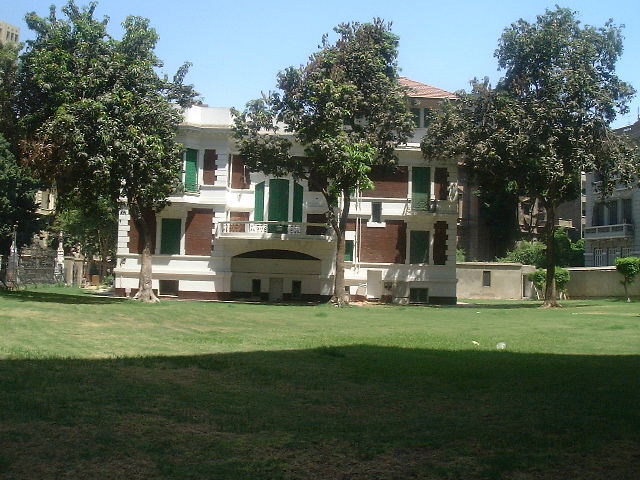 Villa
An aftershock of the July 1961 rulings was the sequestration of the properties of so-called "counter-revolutionariesy." Particularly unlucky were those who were out of the country when their names turned up on the "People's Enemy" list. On their return to Egypt Youssef Cattaui Pasha's heirs discovered their Gothic villa (built by Marco Olivetti) had been taken over by the military. Though the departed "Centralien's" unique library had been auctioned by Feldman a few years earlier, Youssef Cattaui Pasha's vintage wine cellar remained intact much to the delight of the uniformed squatters.
Levy-Garboua's "Villa Victoria" on Seifeddin Street was meanwhile turned into a club for parliamentarians while Villa Joseph Sednaoui at No.13 Tolombat became home to Misr Re-Insurance Company.
The world seemed to be turning upside down. Privately-owned buildings fell into the hands of insurance companies that had themselves been recently nationalized. Apartments involuntarily vacated by long-standing tenants were snatched up by senior officers, a coterie of self-serving praise writers and the courtisans of the new regime.
In the ongoing mele foreign governments too acquired prime properties at cents the dollar cutting triangular deals with the state and former owners. This is presumably how the Swiss and Saudi embassies came to own the Elie Mosseri and Aziz Bahari mansions.
As for those entrepreneurs who stayed behind, they saw their revenues dry up so fast they could no longer maintain large homes. Similarly, new agrarian laws limiting rural ownership prompted several members of Garden City's elite, such as Basma Sharawi Hanem, to replace their sumptuous villas with revenue-generating apartment buildings thus setting a regrettable trend that would eventually come back to haunt them.
Inspiration from the past now most definitely frowned upon, it became open season for architectural terrorism.
Streetscaping too went out the window. For starters, sensible distances between buildings were ignored while sidewalks were summarily highjacked. Green space was annihilated for the benefit of new buildings that lacked the minimum basics of proper finishing. And as demand for new housing and offices grew, classical buildings were piggy-backed often with three or more upper floors Nasser-style. The end result was tasteless, colorless and disproportional.
If gynecologist Dr. Naguib Mahfouz Pasha's house at the intersection of Tolombat and Aicha Taymouriya exemplifies the transmogrification of mansions into offices, the Islamic Council's lot on Ahmad Pasha Street set the precedent for the houdinizing of garden spaces into tall ugly buildings with barely two centimeters separating the new structure from the old.
What had been conceived as an elitist bedroom enclave had incomprehensibly become a jumbled third-rate business district. Meanwhile, aristocratic properties were cut up into cheap housing subdivisions. Ahmed Yegen Pasha's palace was replaced by 16 unsavory buildings, many squatting on the erstwhile sidewalks.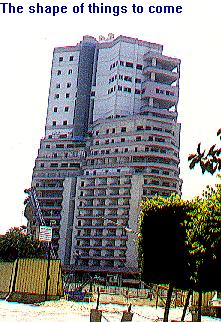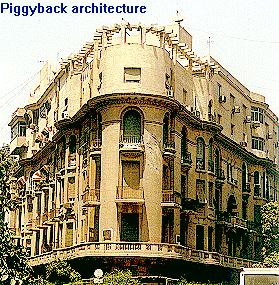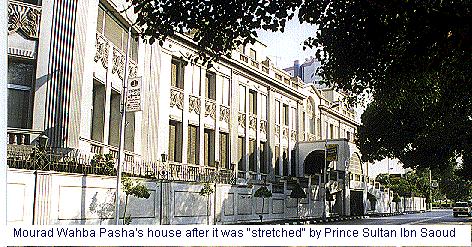 Buildings that survived the architectural holocaust often faced sad prospects. Upon purchasing Murad Wahba Pasha's mansion overlooking the Nile, Saudi Arabia's Prince Sultan ibn Abdel Aziz made horizontal and vertical additions so that an already small garden disappeared completely.
Sir Ali Ibrahim Pasha's mansion on Khalil Agha Street buit in the 1920s--was acquired first by Syrian magnate Akram Aowjé, and later by Sheik Mubarak Al Sabah of Kuwait. Today, it stands neglected, beckoning lawsuits and wrecking balls, not unlike what happened to Mohammed Abdel Khalek Pasha's mansion across the street, now a glass and aluminum complex housing the Arab African Bank.
The question arises, what will become of Fouad Serageddin Pasha's palace on Ahmad Pasha Street when the octogenarian Wafd Party leader meets his creator? Will the Pre-WW1 German Legation also become an impersonal high rise? Paradoxically, as the pendulum swings back and privatization gathers momentum, the slaughter continues with greater force.
The writing is all over Garden City's vulnerable walls: if nothing is done to reverse the tide of demolition, the already questionable "Garden" in Garden City will become nothing more than a cruel joke.
Photos from author's collection.
Picture entited "The shape of things to come" shows a new building which replaced the Badrawi Ashour Villa at No. 20 Aicha El Taymouriya Street. Large area (hole) in front of building is now the Four Seasons megacomplex construction site on what was once the Cherif Sabry Palace.
Email your thoughts to egy.com
© Copyright Samir Raafat
Any commercial use of the data and/or content is prohibited
reproduction of photos from this website strictly forbidden
touts droits reserves