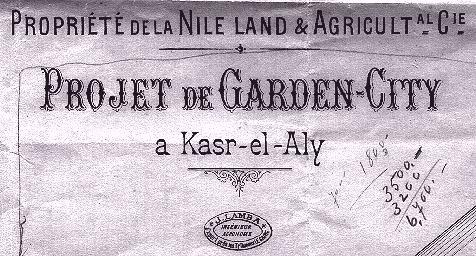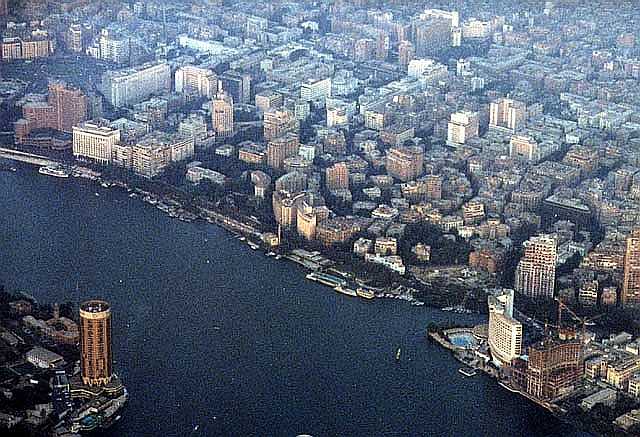 Garden City seen from the air 1999. Photo Donat Agosti
below: 1965 photo taken from Cairo Tower
Garden City was born in 1905 when Frantz Sofio, Charles Bacos and George Maksud, all three owners of the Nile Land & Agricultural Company, asked agricultural engineer Jose Lamba to create Cairo's newest district. The new township would replace the former royal domains of Kasr al-Aaly (High Palace built for Khedive Ismail's mother) and the two older sarays to the north belonging to Viceroy Ibrahim Pasha. The entire area had been reclaimed during Mohammed Ali's reign when the surrounding swamps and sandy mounds of Tal al-Akareb (Scorpions Hill) were transformed into orchards and bean fields.
Although we ignore the sums paid by the Nile Land & Agricultural Company for Kasr al-Aaly and its 50 acre park the annals of this particular property illustrates the almost phenomenal rise in the price of land during 1903-5.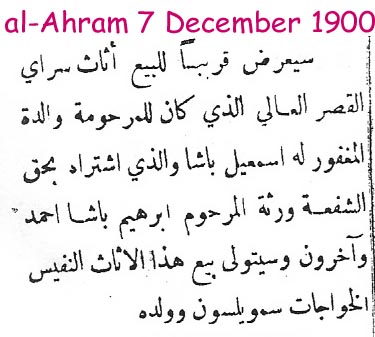 Samuelson & Son auctions off Kasr al-Aali Palace furniture on behalf of princes Ahmed Ibrahim
From the Egyptian Gazette's 8 September 1905 issue, we learn that at the turn of the century a group of American financiers acting through the Bank of Egypt had almost succeeded in buying the estate at LE 85,000. But just as the deal was about to be concluded Prince Ahmed Kamal Rifaat exercised--through a proxy--his right of pre-emption and bought the property himself.
Two years later an offer of LE 150,000 put forward by a Belgian consortium was turned down over a LE 10,000 difference. The princes wanted to recoup their investment twofold!
In 1905, with the construction of new bridges across the Nile, the property was once again on the market this time for LE 400,000 or LE 2.00 per square meter.
Cairo's newest khedivial neighborhood occupied a well-defined hexagon. To the south it was bordered by Lady Cromer Hospital Street (now Dr. Handussa). To the east by Kasr al-Eini Avenue and the genteel district of Mounira; to the north by the aristocratic neighborhood of Kasr al-Dubara; and to the west by Kasr al-Aaly Street and that most magnificent of natural barriers, the Nile.
Unlike the contemporary districts of Zamalek, Maadi or Heliopolis, characterized by grids, endless right angles, wide squares and boulevards, Garden City was the work of an Art-nouveau dabbler who preferred compasses to rulers hence the absence of straight lines.
Lamba laid out a series of narrow winding roads outlining ill-defined triangles and curvy rectangles. Three times out of four you end up where you started. Even as one traveled down a single road it erratically changed names at vague intervals. Tolombat becomes Kasr al-Aaly (Corniche) in the north and al-Salamlek in the south. Meanwhile Nabatat turns into Bergas then into Harass and finally into Faskia. Moreover and because of their sinuous delineation, streets like Tolombat and Aicha al-Taimouriya, intersect each other more than once!
Equally perplexing for anyone without a sense of whimsy, Lamba chose a giant fish as the centerpiece for his Neptunian maze; its head, which stands in as the neighborhood's only public garden, pointing towards the Nile.
A strictly upper class bedroom community, Garden City had no commercial area to speak of. Communal amenities would therefore be at the demand and initiative of the inhabitants as was the case of the Forest Hills Tennis Club. This was a small patch of land, which included three tennis courts, two ping-pong tables and a skating rink. Situated diagonally opposite the public garden, Forest Hills was open to Allied sergeants on leave during WW2 courtesy of a Miss Alice Westner, the club director.
Forest Hills Club was later replaced by the Marzouk apartment buildings on Aicha al-Taimouriya Street.
Garden City's original ordnance survey map evinces an area divided up into 273 unequal lots earmarked for villas with small gardens and immeubles de rapport. These were never to exceed a height limit of 15 meters. Had the lots been exploited as housing units of eight apartments each, Garden City's population would have peaked at 2,184 families. But this was never the case and up until WW2, apartment buildings were outnumbered by villas, many of which occupied multiples of one lot.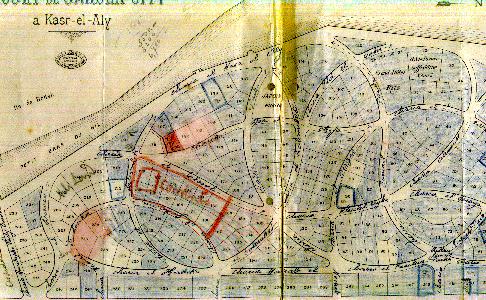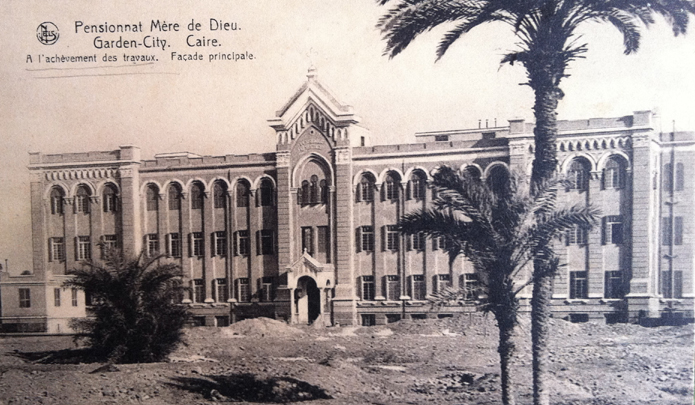 To this day the town's largest proprietor remains the Vatican with 12 contiguous lots to its name. Originally intended as a convent, the property was turned over to the Mere de Dieu school for girls in the early 1920s.
CAIRO'S GARDEN CITY
Next to British Agency--A number of of the very best plots of this estate are offered at the most reasonable rates, by Chev. C. Aquilina, Carlton Hotel, Bulkley.
Advertisement Section - The Egyptian Gazette, 5 June 1908
The runner up in terms of size was Her Britannic Majesty when it expanded its embassy grounds by acquiring Monsieur Bacos's townhouse and its seven attached lots. The purchase also covered the western portion of Rostom Pasha Street (ex-Ibrahimi) which doubled as the administrative boundary between Kasr al-Dubara and Garden City. Britain thus has the unique distinction of straddling two separate precincts.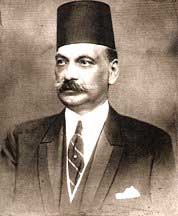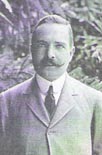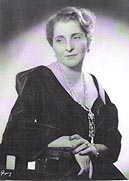 L-R: AldyYegen Pasha, Medhat Yegen Pasha and his daughter Tawhida
Divine and temporal powers accounted for, the position of third largest property owner was disputed between financier Aziz Bahari, Prince Ahmed Seif al-Dine and the Yegen cousins, one (Adly) a prime minister and the other (Medhat) a grandson-in-law of Khedive Ismail and sometime minister of foreign affairs. A celebrity gambler rumor had it that Medhat Pasha won his palace at a card game at the Mohammed Ali Club. So as not to lose his new acquisition under similar circumstances he registered it in the name of his only daughter Tawhida "Tatty" in 1914. But who was the original owner of the palace remains unknown.
If Bahari's carp-shaped estate (today Embassy of Saudi Arabia) comprised 10 abutting lots bordered by Salamlek and Gihadia Streets, Prince Seif al-Din's property was divided up into disconnected parcels, one of which fronts the Nile and occupied by the much sought after Seif al-Dine apartments next to the Mobil Building. The second property is today shared by another Seif al-Din building and Dar al-Shaab's shabby printing press located between Saraya al-Kobra and Kasr al-Eini Streets.
As for Prime Minister Adly Yegen Pasha, he could have owned an entire block had it not been for the villa of Princess Fatma Fazil which occupied the 6th lot (lot 118 is now a red-ish apartment building).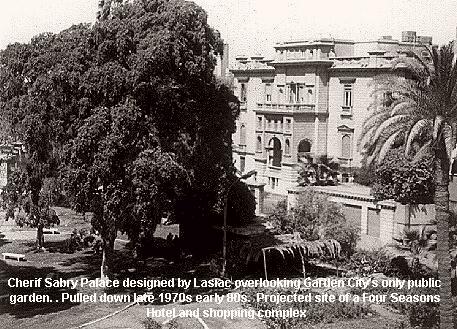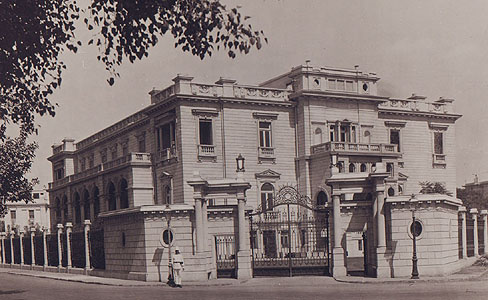 Adly Yegen Palace a.k.a. Kasr Cherif Sabry designed by Antonio Lasciac. Replaced in 2001-2004 by the Four Seasons Hotel Bldg. below: its demolition (photos courtesy Hoda Sami; Diego Kuzmin and Mounir Cherif Sabry)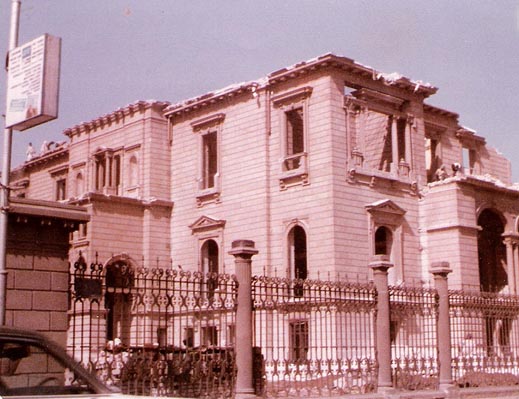 below photo of King Farouk's cousin as a young man and later in his twilight years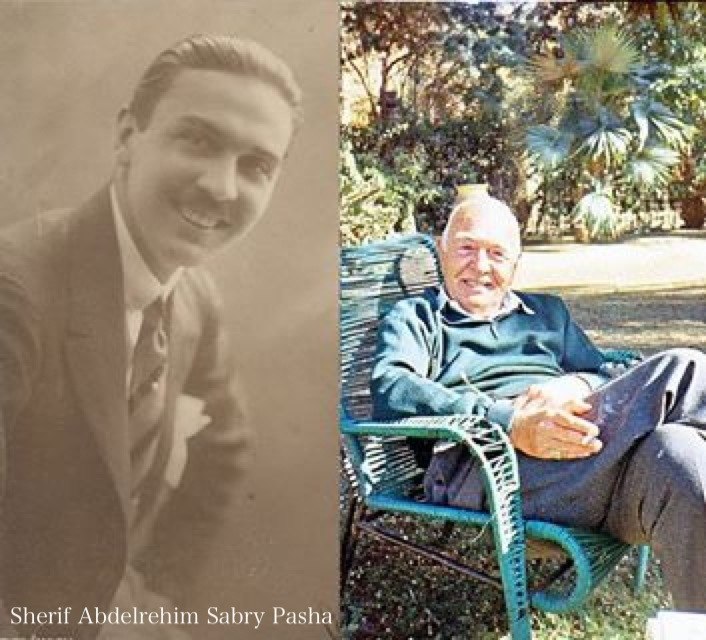 All told Adly Yegen Palace was Garden City's largest superstructure by far. When the pasha died in Paris in October of 1933, the palace took on the name of Kasr Cherif Sabry in honor of the man who in 1925 had wed the pasha's only daughter, Naila. Most probably the name change had to do with the fact that Naila Yegen's husband was Queen Nazli's brother, hence the acquired notoriety of the palace. The irony here is that all along the palace belonged to neither gentleman but was the property of Yegen's wealthy wife Zeinab Cherif, a daughter of Ali Cherif Pasha, a former Minister of Finance.
The name having stuck, Kasr Cherif Sabry was the venue of many national and international events. It was also host to some dreamy weddings where Um Kulthum, reportedly Cherif Sabry's sometime paramour, outdid herself performance-wise. Sadly, the three heirs of Garden City's grandest construction did not choose to keep it. In fact, they hastened to sell it to the proverbial first bidder during the real estate boom of the late 1970s. The maverick Zurich-based Swiss buyer Renee Hutt claimed he would make them all rich in no time, provided that with part of the proceeds they bought shares in his hotel project, for the land had been earmarked for the Middle East's first Nova Park Hotel. But no sooner was the palace torn down when financial difficulties sank that project in 1985 and the property lay desolate for fifteen years until its recent revival as The Four Seasons Hotel Complex.
In some uncanny way history had repeated itself.
It was during Garden City's teen years that right next door to what became Palais Yegen a group of speculators invited Fritz Hefti, a Swiss architect who swore by concrete, to erect them a mammoth Nileside palace-hotel. Overlooking the Nile it was bound by Hod al-Laban, Gamal al-Din Abou al-Mahassen (ex-Ismail Pasha) and Nabatat Streets. The speculators christened it the Grand Hotel Ritz. However the arrival of Kasr al-Dubara's Semiramis Hotel and the fallout from the financial crash of 1907 predestined the project to an early demise. (In certain publications the Ritz Hotel is attributed to architect Emil Vogt).
The unlucky Ritz was pulled down after WW1 and replaced with the nilefront villa of Emile Jacobs of Antwerp (now Pakistan Embassy) along with five of the neighborhood's smartest apartment buildings belonging to Moise Naggar and Vita Palacci of Cairo; Youssef Smouha of Alexandria; and Limongelli of Italy.
Reproductions of original Nile Land & Agricultural Company survey map from author's private collection

Reproduction of the non-existant Cherif Sabry Palace a.k.a. Adly Yegen Palace courtesy of Mrs. Hoda Sami. Taken from Mrs. Sami's third floor balcony at No. 12 Tolombat Street, picture shows palace overlooking public garden.

Youssef Smouha and Haim Naggar were married to Rosa and Esther Ades of Damascus.
PRESENT NAME OF STREET.....................................................ORIGINAL NAME
| | |
| --- | --- |
| HASSAN MOURAD | FASKIEH |
| GAMAL EL DINE ABOU EL MAHASSEN | ISMAIL PASHA |
| CORNICHE EL NIL | KASR EL AALI |
| DOCTOR AMED HANDUSSA | LADY CROMER HOSPITAL |
| MIDAN GAMAL EL DINE ABOU EL MAHASSEN | MIDAN ISMAIL PASHA |
| KAMIL EL SHINAWI | NABATAT |
| ABDEL RAHMAN FAHMI | SALAMLIK |
| GHANDI | SALSOUL |
| ITIHAD EL MOHAMEYEEN EL ARAB | TOLOMBAT |
| AICHA EL TAIMOURIIA | WALDA PASHA |
| AHMED RAGHEB | WARCHET EL TAMBAK |
| MUDIREYET EL TAHRIR | MADRAB EL NASHAAB |
| ABDEL LATIF BALTIYA | DAR EL CHEFA |
---

Reader Comments

Subject: Reference Garden City
Date: Wed, 9 May 2001 20:01:38 +1000
From: Fiona Issaevitch

On behalf of my mother and the rest of my family, may I be allowed to thank you for taking us back home through the pictures you have displayed of our suburb. We used to live in 21 Sh Sheikh El Barakat behind the Semiramis Hotel. You took me to my childhood, and I remember most of the old villas and their manicured gardens. Many thanks and please rest reassured that we are most grateful.
Yours very truly,
The Issayevitch Family in Australia

It's great to see again where I was born. Where I grew up, see Midan El Tahrir, where my father and his brothers had a restaurant of fool and a patisserie. It was also nice to look at Garden City where I lived. The GSC where I swam, played squash and socialized. Thank you for taking me back home to Cairo.
Clement S. Issaevitch
---
From: Pierre Danon
Date: 06/03/00 at 07:19:56

I am one of the grandsons of Gaston Nissim Ades whose villa is featured in your Garden City heading. I think a mistake has been made because Tony and Gaston are the same person, Tony being Gaston's nickname! Any Egyptian Jew who wishes to email me please feel free. All mail answered (in French or English)

---
Subject: Garden City
Date: Thu, 06 Aug 1998 09:53:55 -0400
From: ahmed el-minawi

Thanks for finally placing the neighborhood I have always called home on the map! As usual another of your eloquent and well-researched articles. Waiting for Part II eagerly...
Ahmed (In very cool and rainy New York state!)
University of Rochester School of Medicine
---
Subject: Garden City
Date: Sun, 20 Sep 1998 08:30:18 -0500
From: Amr Ibrahim

Samir Bey: I would like to thank you for the wonderful articles; they are simply brilliant. I do recognize almost all of your buildings and I share with you the concern for Garden City. I am hopeful that city planners in Cairo would take a more active approach towards preserving what remained of this magnificent quarter.
Amr Amin Aly Ibrahim
Houston, TX
(ex Vancouver, BC)
PS. I lived at 60 Kasr El Aini Sreert--almost facing Rosa El Youssef--and was in El-Ibrahmia high school.
---
Subject: garden city buildings
Date: Sun, 23 Jan 2000 16:46:23 EST
From: Rajaqueen@aol.com

We lived in Garden city for 2 years (Mahmal street near Mere de Dieu College) and we enjoyed it. We will be very pleased to see a lot more pictures on Garden city and cairo Congratulations for your work.
Sumaya & eric Frager Raja
---
Subject: Garden City Private Hospital
Date: Fri, 13 Aug 1999 21:10:07 -0700
From: Maurice Levy

I'm an ex-Cairene born in Daher, raised in Ghamra and educated at the English Mission College). I would very much like to know whatever happened to the subject hospital and also what year did its chief doctor Adib Fahmy (whose clinic was at 141 Sharia Malaka Nazli) opposite Bab El hadid. Awaiting with interest your E-mail response
Many thanks in advance
---
Subject: Garden City:
Date: Sun, 18 Oct 1998 23:32:43 +0000
From: Paul Reuber

I am an Canadian architect, and have just read your six informative articles on Garden City with interest. I walked through this interesting and historic part of Cairo during a trip to your wonderful country in the early 1990's. I am intrigued that engineer José Lamba laid out its major park in the shape of a fish. This is an ancient symbol which Christians were know to draw on their hands, so that they could identify each other during Roman times. Could Lamba purposefully have used such religious imagery in his planning of this suburb? Are you aware of Lamba's ethnicity? His name sounds Spanish. I would be interested in hearing from you, if you have time. Regards,

---
Email your thoughts to egy.com
© Copyright Samir Raafat
Any commercial use of the data and/or content is prohibited
reproduction of photos from this website strictly forbidden
touts droits reserves