egy.com suggests following articles
EGY.COM - COMMUNITY
>
Graf Zeppelin Mystifies Cairo

by Samir Raafat
Al-Ahram Weekly - January 14-20, 1993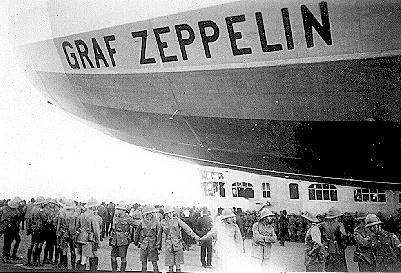 Robert Gottfried Peyer was five when his parents woke him up in the middle of a 1931 April night. Within minutes they were driving out of their Maadi suburb and onto the main road leading to the airport passing through a still sleeping Cairo. Dark shadows everywhere. As they approached the desert fringes surrounding Heliopolis past the Hindu palace of Baron Empain, the Peyers were surrounded by other cars heading in the same direction. The silent convoy proceeded eastwards.
At the small makeshift airport of Almaza (officially opened 2 July 1933), everyone got out. There was an atmosphere of eerie excitement mixed with apprehension --a state of suspended animation had set in. Suddenly, in an fortuitous chorus, everyone started to shout, cheer and gesticulate. Some were even trembling --it was not clear whether out of fear of excitement. All were facing west. Day was now breaking and one could make out shapes and outlines. For children and adults alike, this was something out of science fiction. A spaceship, not unlike that which would soon be recounted in War of the Worlds, was looming in the horizon.
In the distance, where earth met sky, its aluminum shining in the reflection of a rising sun's rays, was a large unrecognizable shape hovering in the atmosphere. As it slowly advance towards Almaza airport, it looked enormous and frightening. Three times it circled above the awestruck crowds sinking lower and lower each time. Then, to everyone's bewilderment and delight, two ropes were thrown down. These one realized later were the flying object's mooring straps. It was 06:10. The Graf Zeppelin had landed.
The Graf and its larger sister ship, the Hindenburg, were the two most famous rigid-type airships. The former was named after Ferdinand Graf von Zeppelin who, in 1902, designed the first prototype. By the time the Graf was de-commissioned in 1937, it had made 5220 flights including 144 Atlantic crossings.
On this particular trip the airship had taken off from its home port of Friedrichshafen in Germany at exactly 04:00 on April 8. On its voyage to Egypt, it flew over southern Europe, Malta, Benghazi and Alexandria arriving in Cairo on April 11. Under the command of Dr. Eckner, the Graf Zeppelin carried 25 passengers on board including Al Ahram's correspondent, Abou El Fath Effendi. On their arrival at Almaza airdrome the Zeppelin's passengers were welcomed by no less than Egypt's Prime Minster Ismail Sidki Pasha who was accompanied on this occasion by his minister of communication, Tewfik Doss Pasha. Also present was the German minister to Egypt, Baron von Stohrer. Not far from the official entourage were the excited and cheering crowds including our young witness from Maadi.
While the Zeppelin's passengers and crew visited Cairo and lunched with their official hosts at the Mohammed Ali Club on Soliman Pasha Street, the airship flew on to Palestine with a new crew on board plus some Egyptian notables. The previous day life in Alexandria had been interrupted at 14:00 as the Graf flew low over the coast. After the excitement was over few people felt like returning to work. As it continued its travels over the Delta, peasants shouted and cried claiming that the day of reckoning was here for surely this was God's messenger come to deliver mankind.
For sure, the arrival of the flying ship was a historic event in Egypt. The week prior to its arrival, the postal administration issued a limited edition stamp commemorating the Graf's visit. Letters and postcards no heavier than 20 grams would be allowed to travel "air mail" on the Zeppelin to its next destination. It cost 10 piasters for a letter and five for a postcards.
Few realized in 1931 that a similar airship had violated Egypt's airspace in 1918 during WW1 while on a relief flight from Germany to East Africa. Its mission was to reach the stranded troops of General von Vorbeck. When sightings of a flying object were reported in Upper Egypt by amazed witnesses, they were summarily rejected as hallucinations. Then like now, UFO sightings weren't taken seriously.

Email your thoughts to egy.com
© Copyright Samir Raafat
Any commercial use of the data and/or content is prohibited
reproduction of photos from this website strictly forbidden
touts droits reserves